It's finally here. The PlayStation 5 generation has begun and I have been waist deep in next generation gaming for the last week and a half. At Mega Dads we're aiming to bring you all the best coverage of these new consoles and as the head of our PlayStation division I have been eating, breathing and dreaming nothing but PlayStation. My Miles Morales Report Card is already available on megadads.org and I already have 4 other reviews in progress. Players all around the world are either experiencing the greatness the PS5 has to offer or are still in the trenches trying to get their own console secured.
With word of global stock being sold out within minutes, two things are very evident. Firstly, COVID-19 has had an impact on the release of new hardware as shortages are very apparent, and secondly, the demand for the new generation of gaming are as high as they have ever been. As we all prepare for a long winter of social distancing and staying safe in our homes we want the very best that video game entertainment has to offer. So if you haven't yet made the plunge into the 5th generation of PlayStation, don't worry, I've got you covered. I plan to bring you as much PS5 coverage as my eyeballs and sleep patterns can handle. So without any further delay, let's get straight into the news. This is PlayStation Mega Bits.
Black Friday Starts Now
It's Black Friday Sales time and while this year it's safer to jump into a Bear Pit than it is to go holiday shopping, you can still take advantage of some truly fantastic discounts by heading to the PlayStation Store right now. There are sweeping deals on hundreds of games right now and if you're the kind of player who's been waiting for a good deal, this is the time. Highlights of this sale include 50% off of The Last of Us Part 2, 34% off of Final Fantasy VII Remake, 33% off of Ghost of Tsushima and 25% off of PlayStation Plus and PlayStation Now. These are some of the best games of the year and have my highest recommendation for PlayStation players. So make sure you head to the PlayStation Store and check out these and other great offers to make sure you have plenty to play from now until Santa comes.
Last of Us Heads to Prime Time
Last month we brought you the story of the long awaited Uncharted feature film finally happening. Sony is apparently going full steam ahead on producing both of Naughty Dog's flagship titles as we are now hearing that HBO has given the green light to begin production on The Last of Us for the cable network. Series creator Neil Druckmann is attached to the project as both writer and executive producer for the small screen adaption of The Last of Us, which will look to adapt the story of the original video game. The Last of Us for HBO will focus on Joel and Ellie's journey across an America ravaged by disaster and horror in pursuit of the Fireflies, a group that holds promise as the last best hope for the survival of mankind.
Having Druckmann involved as such a prominent contributor and overseer of the project brings a weight not seen by many video game to film adaptions and HBO is certainly known for developing top tier dramatic television. Of all the games being adapted to film, The Last of Us seems to be one of the projects we can all rest assured is being handled with the utmost respect for the tone and importance of the source material.
Astro's Impact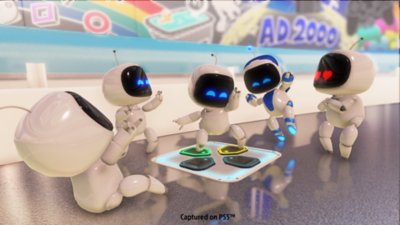 With the launch of the PlayStation 5 comes one of the greatest video game pack-in titles I have ever played. Astro's Playroom is not only an amazing showpiece for the features of the DualSense controller, but it is once again a sleeper hit of a platformer that will have you grinning ear to ear from start to finish. I'm not going to spend much time discussing the game in detail as my review for the title will speak for itself when it drops shortly, I do want to call out exactly what Sony is crafting with this character and series.
Much like the VR exclusive, Astro Bot Rescue Mission before it, Playroom is platform perfection and has character and charm for miles. Sony has once again brought back the platform mascot with Astro, something that has been sorely missing from the brand since the PlayStation 1 days of Crash Bandicoot. They accomplish this in many ways across both games by embedding the character with the PlayStation brand identity. Playroom is a love letter to the history of PlayStation and they wrap it around Astro like a warm blanket. It's clear that this character is making a statement and Sony has a lot of faith in the franchise by making this game a pack-in when they easily could have gotten away with charging us for it.
I'm all for it, Astro is a delightful character and I'm excited to see him carry the flag for PlayStation going forward. And if a recent entry on the Sony Blog is any indication, we may not have to wait long to see what's next for our little robot friend. In a letter to players, Team Asobi talks about the project and concludes with the following quote "Astro will be back with news soon. Until then, have a great time with your PS5 and above all, stay warm and safe!" Could a sequel already be in the works? Expansion content perhaps? Either way, Astro has more than earned his stripes and I will be first in line to play whatever Team Asobi delivers next.
Spider-Man Saves Your Saves
Finally in the news, Insomniac has delivered in short order to fix the issue of Spider-Man Remastered not allowing players to carry over their progress from the PlayStation 4 version of the game. Available right now you can transfer your data from your original copy of the game over to the PS5 Remastered version. Just make sure both games are updated to the latest version and installed on your PS5 and you should be able to migrate your data over from the start menu of the PS5 version. Many people were quite upset that this wasn't an option from the start, but if you're like me you probably started your PS5 experience with the all new Miles Morales and with only a little over a week to deliver this update, I think Insomniac handled the blowback well and delivered fans what they were asking for in record time. Now you can zip through New York City as your preferred web head with all your data any way you like! Excelsior!
VR Enhanced
There's not much VR news once again this month and coupled with a recent statement from Jim Ryan that hints at VR not necessarily being a focus for PlayStation for the near future it kind of has me wondering their commitment to the platform. But here comes London Studio to reassure me that PSVR is very much viable in the next generation by announcing their awesome VR shooter Blood and Truth is not only ready for PS5 play, but it is enhanced with improved visuals and an improved frame rate clocking in at 90fps. What is so curious about this story is London Studio says the game is able to render out at 4k resolution through the power of the PlayStation 5 even though the PSVR headset only has a screen resolution of 1080p. This means the game is powered beyond the means of the current iteration of the technology. This of course prompts the question why juice the game up beyond what anyone can play it at and has me once again hoping that there's hope for new a headset on the horizon that will take advantage of what the PlayStation 5 is capable of.
I'm still waiting on my camera adapter from PlayStation so I can't give any hands on impressions of VR on PS5. I've reached out to Sony for further help as the process of requesting the camera gave you no option to track the status of your request. Hopefully the adapter will arrive in time for me to provide you an update before the next PlayStation Mega Bits.
Every month on PlayStation Mega Bits Elliott and I recommend a game we think you should be playing on your PlayStation 5 and this month we're recommending Overcooked: All You Can Eat Edition.
Elliott: It's super fun, and you get new places and it's about you cooking. You have time limits and if you hear the BZZZZT that means you lose the recipe.
Adam: You're trying to make food. This is a cooperative game where you work with other players to put recipes together and serve food to your customer. You have to use ingredients and prepare and cook them in time to earn the best score. The levels are very dynamic and change to challenge each team to complete their objective in time.
Elliott: I like the level where there was magic and portals and it made the tables move.
Adam: This is a fun game but it's really stressful. It can be hard to concentrate.
Elliott: Yeah. I can feel it sometimes when I'm moving my fingers so fast cooking or cutting. It's super hard.
Adam:So we greatly recommend Overcooked All You Can Eat Addition. It's a great time with your family. It's chaotic and cooperative.